What is Virtru?
Pros and Cons Values
Virtru is cloud-based data privacy and security platform that helps businesses of all sizes across education, IT, manufacturing, finance and various other industries manage and encrypt emails.
Virtru is a global leader in email and data encryption. Its flexible and easy-to-use end-to-end encryption solutions provide access controls, key management, DLP rules, and persistent audit for organizations to improve security, privacy and meet compliance requirements.
Positive
Cloud, SaaS, Web-Based
Desktop Version (Mac, Windows)
Email/Help Desk Support
Knowledge Base
Negatives
No Desktop Version (Linux)
No Free Trial
No Free Version
No Live Online Training
No Mobile Version
No On-Premise Version
At Virtru, we equip our users to have full control of their data, everywhere it's shared.
The application enables supervisors to set up access control for files, folders and attachments in Gmail, Microsoft Outlook, Google Drive and several other platforms.
Video and Images
Check Virtru Video & Images
*Click on the screenshot to zoom
Best for
Check who Virtru is best for
Virtru offers end-to-end email and data encryption products that integrates seamlessly into the platforms you already use.
Employees can define expiration dates, disable the forwarding feature and insert watermarks in attachments. Virtru also allows administrators to generate audit reports and conduct forensic analysis on incoming and outgoing emails to maintain compliance across the organization. Users can also revoke access to messages and identify sensitive data by implementing DLP rules while encrypting emails.
Email Attachment Protection
Encryption
Policy Management
Whitelisting/Blacklisting
Virtru's technology ensures persistent, secure, multi-party control of data at scale, for use in applications including contact tracing, critical resource planning, connected device security, secure analytics, and others.
The Virtru TDP employs a split knowledge architecture that stores encrypted content separately from the encryption keys protecting it, supporting a Zero-Trust framework, where all system components are continuously authenticated, verified, and authorized.
Security
Is Virtru HIPAA COMPLIANT?
Virtru is HIPAA, GDPR, CCPA, ITAR, CJIS, NIST, FERPA and CCMC compliant.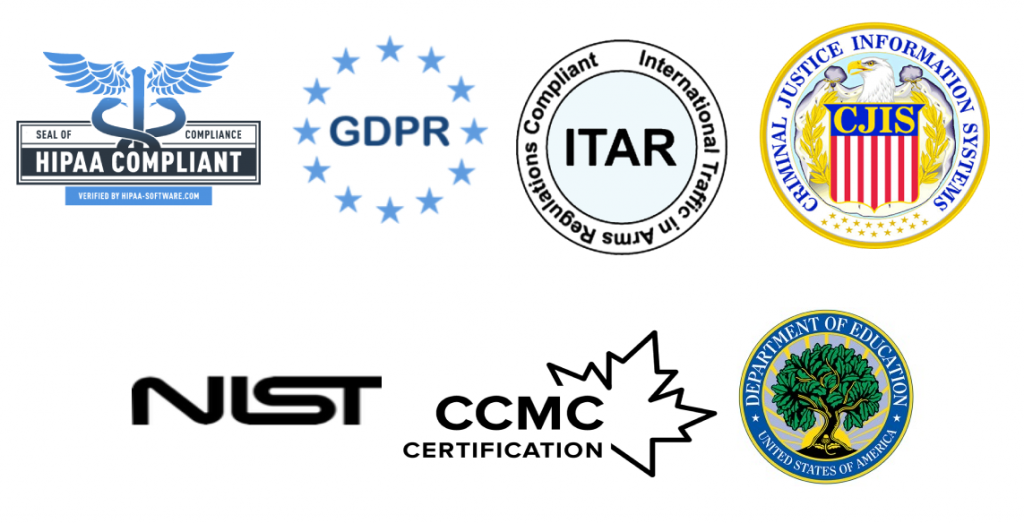 Based on the HIPAA Security Rule and the safeguards recommended to maintain the integrity, availability, and confidentiality of ePHI, Virtru helps you meet compliance:
Protect data throughout its lifecycle with end-to-end encryption.
Require authentication or share data directly with patients via one-click secure access.
Maintain data visibility with audit logs to see who has attempted to access data, track where data travels, and take action to reduce/ mitigate breaches. Use SIEM integrations to improve threat remediation workflows.
Revoke access and adjust access controls at any time to maintain ownership over data.
Leverage our HIPAA DLP rule pack or create your own rules to automatically encrypt designated types of data.
Use Virtru Secure Share for protected file exchanges and collaboration.

For a small team that needs to meet compliance regulations

For bigger teams that need to collaborate with partners, customers and employees

For larger organizations that need advanced data security
Add your rating
User's ad Editor's scores
MUSTHAVE software!
At every step of your business growth, it is necessary to implement something new or improve something old. This is what this software may help you with. HIPAA SOFTWARE RECOMMENDS!
Add your review