What is TeamViewer?
Pros and Cons Values
TeamViewer is an online meeting and video conferencing solution that connects any PC, mobile, and server to each other globally. The solution is available in nearly all countries and supports over 30 languages. TeamViewer is suitable for businesses of all sizes and can be deployed both in the cloud as well as on-premise.
Positive
24/7 Live Support
Cloud, SaaS, Web-Based
Desktop Version
Free Trial
Free Version
Mobile Version (iOS, Android)
On-Line Trainings
TeamViewer remote access & control computer software, allowing maintenance of computers and other devices. It is easy to use whenever and wherever you need it and is designed to provide connectivity across operating systems and devices.
TeamViewer has evolved from a ground-breaking remote support application into a global company now facilitating an ever-increasing number of use cases.
Video and Images
Check TeamViewer Video and Images
*Click on the screenshot to zoom
Best for
Check who TeamViewer is best for
A solution for small teams, the same for enterprises regardless of industry or sector, is available in most countries in 25+ languages.
Features
TeamViewer Features
TeamViewer provides features such as document management, cooperative writing, invitation management, remote control, screen sharing, chat and messaging. Its instant messaging functionality covers features such as offline messaging, group chats, web-based chats, persistent chat groups, customer-initiated chat from service cases and chat history. The software provides end-to-end encryption and full support for mobile devices.
Attendee Management
Board Meetings
Contact Management
File Sharing
Meeting Room Booking
Presentation Tools
Private Chat
Recording
Scheduling
Screen Sharing
Two Way Audio & Video
Video Conferencing
The solution uses cloud-based technologies to collaborate in real-time worldwide and enable online support through a wide range of product portfolio that includes Monitis (website monitoring system), Blizz (online collaboration) and ITBrain (anti-malware) among others.
Security
Is TeamViewer HIPAA COMPLIANT?
TeamViewer is secured by end-to-end 256-bit AES encryption, two-factor authentication, and other industry-grade security features. It is certified according to SOC2, HIPAA/HITECH, ISO/IEC 27001, and ISO 9001:2015, and comply with GDPR.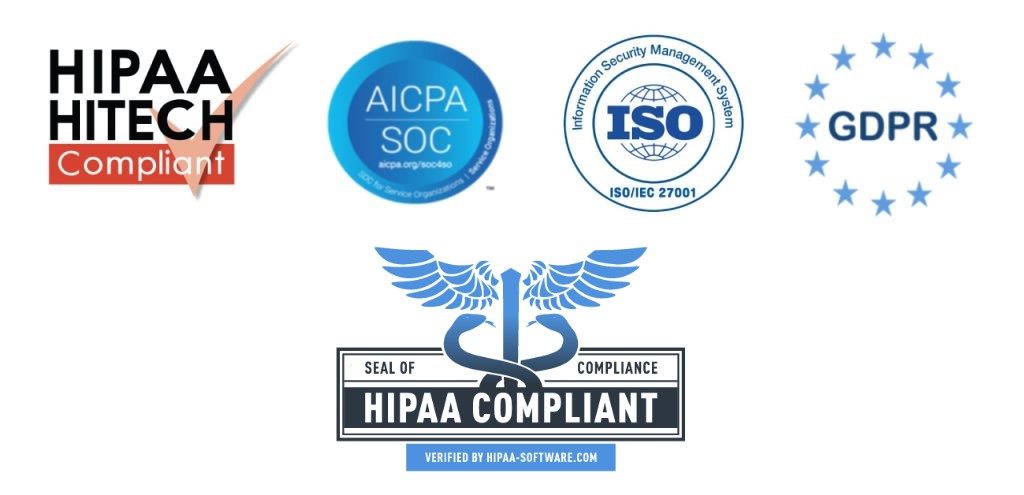 Teamviewer is safe. All TeamViewer versions use full encryption. Encryption is based on 4096bit RSA private/public key exchange and 256 Bit AES session encoding. This uses the same security level as https/SSL and is considered completely safe by today's standards.
Pricing
TeamViewer Pricing
Want to test TeamViewer for your company? Request a Free 14-Day Commercial Trial
Explore a full-featured commercial trial for free!
Add your rating
User's ad Editor's scores
MUSTHAVE software!
At every step of your business growth, it is necessary to implement something new or improve something old. This is what this software may help you with. HIPAA SOFTWARE RECOMMENDS!
Add your review
|
Read reviews and comments