What is NexHealth?
Pros and Cons Values
NexHealth is an EHR-integrated patient booking platform that enables practices to digitize the patient experience with real-time scheduling, patient communications, and more. NexHealth utilizes real-time scheduling that can be embedded onto websites or text/email messages and fully automated SMS/email recalls and reminders to attract and retain patients.
Positive
Cloud, SaaS, Web-Based
Email/Help Desk Support
Knowledge Base
Live Online Training
Negatives
No Desktop Version
No Free Trial
No Free Version
No Mobile Version
No On-Premise Version
Get more appointments from your online traffic (and keep patients coming back) with NexHealth's real-time online scheduling and patient experience platform. From the first impression to repeat visits, NexHealth fully integrates with your EHR system to effortlessly provide convenience and simplicity at every step of the patient's booking journey. NexHealth practices get 18 new appointments per month on average. Get started risk-free today.
Images
Check NexHealth Images
*Click on the screenshot to zoom
Best for
Check who NexHealth is best for
From single-provider practices to DSOs with hundreds of locations, NexHealth is built for healthcare practices that want to grow by offering patients an exceptional, touch-free patient experience.
Features
NexHealth Features
NexHealth can integrate with any third-party dental and healthcare EHR systems using their RESTful API. Ambitious developers and health tech companies reduce the time it takes to build an integrated product from 18 months to just 6 weeks with NexHealth.
Appointment Management
Campaign Management
Drag & Drop
E-Prescribing
Marketing Automation
Mobile Access
No-Show Tracking
Online Forms
Patient Management
Practice Management
Remote Treatment Plans
Video Conferencing
Security
Is NexHealth HIPAA COMPLIANT?
NexHealth is HIPAA compliant.
In operating the Service, and as it relates to PHI, Company endeavors to comply in all material respects with Health Insurance Portability and Accountability Act of 1996 ("HIPAA").
Pursuant to HIPAA, medical facilities or professionals from whom Company receives information about patients may be Covered Entities (as defined under HIPAA), and we may serve as their Business Associate (as defined under HIPAA). As a result, some of the information we collect may constitute PHI (as defined in HIPAA).
Data security is not a one-time certification, it's an ongoing duty that requires IT experts to diligently work to stay ahead of potential threats. The company thinks about your data security constantly, so you don't have to.
Pricing
NexHealth Pricing
Start with a FREE DEMO and make your choise!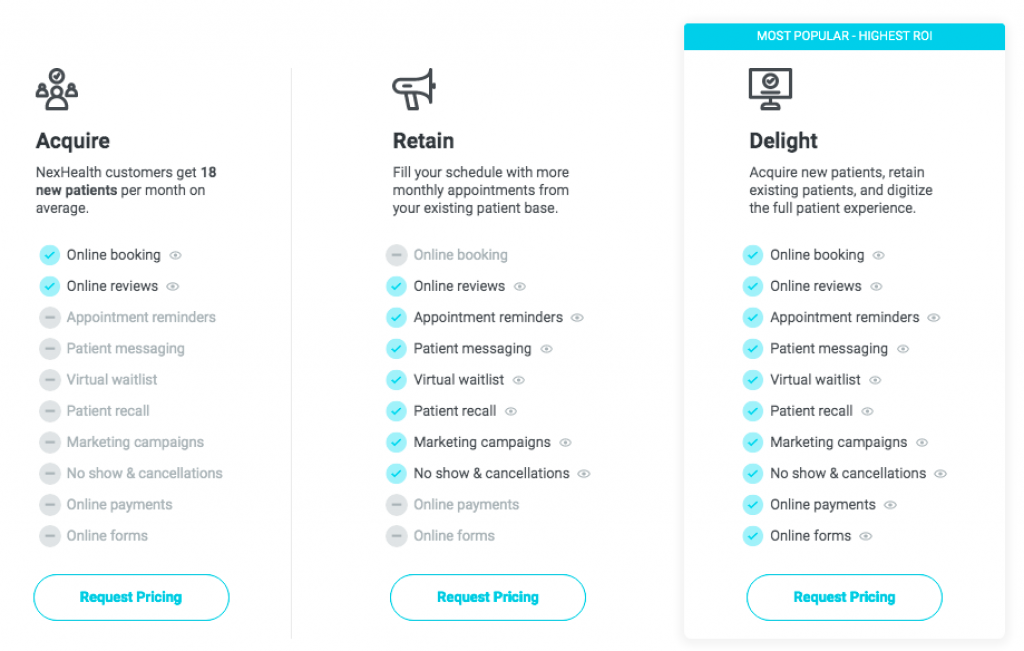 Add your rating
User's ad Editor's scores
MUSTHAVE software!
At every step of your business growth, it is necessary to implement something new or improve something old. This is what this software may help you with. HIPAA SOFTWARE RECOMMENDS!
Add your review